Diploma in Housekeeping Management
Diploma in Housekeeping Management
4.9( 7 REVIEWS )
629 STUDENTS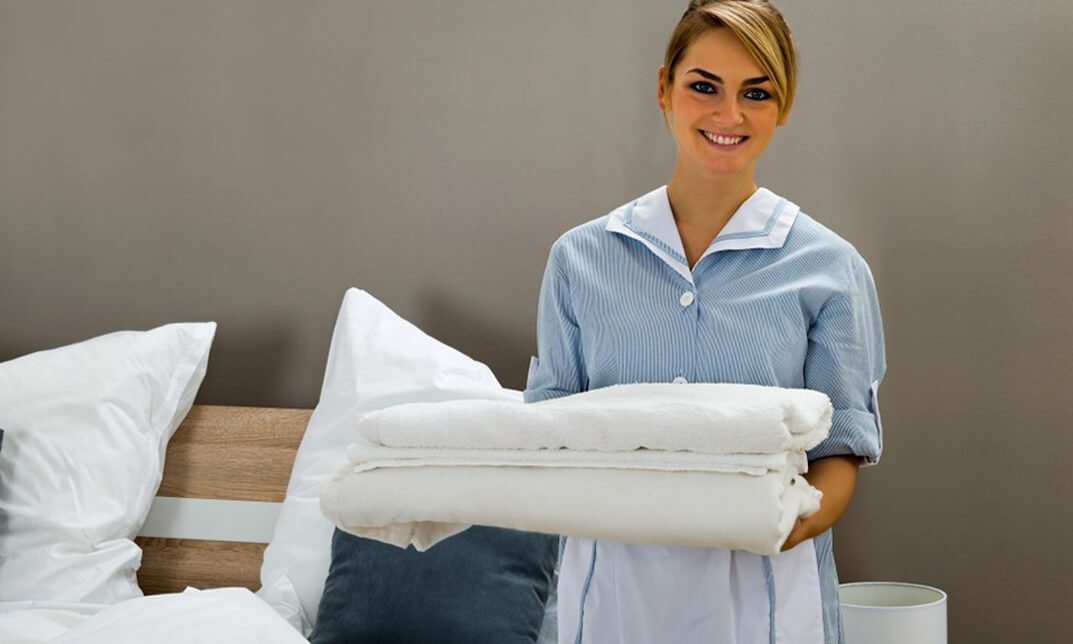 The hospitality industry has seen continuous growth, with more and more opportunities for individuals who are driven to make a successful career in this field. If you wish to work in the housekeeping department of a hotel, this Diploma in Housekeeping Management course is perfect for you. This diploma course will also help anyone interested in understanding the basics of managing a household. 
Throughout this Diploma in Housekeeping Management course, you'll be given a full tour of the fundamental areas of room maintenance and hotel cleaning. You'll also learn essential housekeeping duties like laundry operations, health and safety, sanitation, staffing, budgeting, and inventory control. In a nutshell, this housekeeping management course is designed to equip learners with the knowledge and skills needed in hotel housekeeping to ensure that guests feel welcome and at home. 
Enrol in the Diploma in Housekeeping Management course now and get prepared for a management role within the hospitality industry. 
Learning Outcome: 
Explore housekeeping principles and

gain an

understand

ing of

staff duties 

Familiarise with housekeeping duties such as laundry operations, health and safety, cleaning, staffing, budgeting, and inventory control

Learn how to plan

and schedule

housekeeping duties

and organise the housekeeping department 

Familiarise with standard operating procedures in hotel housekeeping 

Get a solid understanding of

household

budgeting 

Learn about carpet, wall, and ceiling maintenance and window cleaning

Understand how to maintain health and safety while performing housekeeping duties

Learn how to ensure guest satisfaction

by delivering a high standard of service
Why You Should Choose Diploma in Housekeeping Management
Lifetime access to the course

No hidden fees or exam charges

CPD Qualification Standards

certification on successful completion

Full Tutor support on weekdays (Monday – Friday)

Efficient exam system, assessment and instant results

Download Printable PDF certificate immediately after completion

Obtain the original print copy of your certificate, dispatch the next working day for as little as £9.

Improve your chance of gaining professional skills and better earning potential.
Who is this Course for?
Diploma in Housekeeping Management is CPD Qualification Standards and IAO accredited. This makes it perfect for anyone trying to learn potential professional skills.
As there is no experience and qualification required for this course, it is available for all students from any academic backgrounds.
Requirements
Our Diploma in Housekeeping Management is fully compatible with any kind of device. Whether you are using Windows computer, Mac, smartphones or tablets, you will get the same experience while learning. Besides that, you will be able to access the course with any kind of internet connection from anywhere at any time without any kind of limitation.
Career Path
You will be ready to enter the relevant job market after completing this course. You will be able to gain necessary knowledge and skills required to succeed in this sector. All our Diplomas' are CPD Qualification Standards so you will be able to stand out in the crowd by adding our qualifications to your CV and Resume.
Course Curriculum
Housekeeping Management
Introduction to Housekeeping

00:30:00

Housekeeping Principles

00:15:00

Understanding Staff Duties

00:45:00

Cleaning

00:30:00

Inventory Control

00:45:00

Planning & Organising the Housekeeping Department

00:30:00

Understanding Budgeting

00:45:00

Carpet Maintenance

00:30:00

Wall, Ceiling and Window Cleaning and Maintenance

00:30:00

Staffing

00:45:00

Standard Operational Procedures in Hotel Housekeeping

00:15:00

Laundry Operation in Hotel

00:30:00

Health and Safety

00:20:00
Course Reviews
5 stars

0

4 stars

0

3 stars

0

2 stars

0

1 stars

0
No Reviews found for this course.